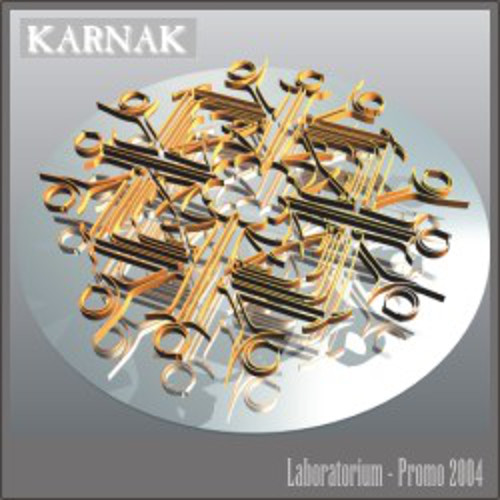 In 2004, Karnak went mad.
This is the apex of the progressive phase of this band.
We abandoned the growl voices and any other kind of classical death metal directions, to land to avant-garde and obscure atmospheres with a lot of references to the great composers of the XX century like Ligeti, Berio and others, yet preserving the aggressive mood of the distorted guitars.
On vocals there is mr. Alessandro Seravalle, already known for being the mastermind of the Italian progressive act Garden Wall, a band very popular among the experimental music lovers.
Actually the complete album consisted of 11 songs, but only 7 of them were recorded to be included in this promo, back in 2004.
After its realization, we got in contact with various record labels, that didn't really understand our new artistic path, and refuse the official release saying that this music is not original. Well, just take a listen to the tracks on this page and judge by yourself. Do you really think that this music is not original? Really?
The few live performances with this line up left the audience totally upset and perplexed. I still remember their faces, trying to follow the music 🙂
I really hope one day to convince the former members of the band to record the whole thing once again, to give the proper splendor to a record that really deserves to be listened.
Alessandro Seravalle – vocals
Gabriele Pala – guitar / guitar synth
Marco Colella – keyboards
Romolo Del Franco Natale – bass
Stefano Rumich – drums and percussions
Credits:
Music: Karnak
Lyrics: Alessandro Seravalle
Drum recording: Diego Biloslavo
Guitar, bass, keyboard recording: Gabriele Pala
Mixing and mastering: Gabriele Pala, Stefano Rumich
Artwork: Gabriele Pala