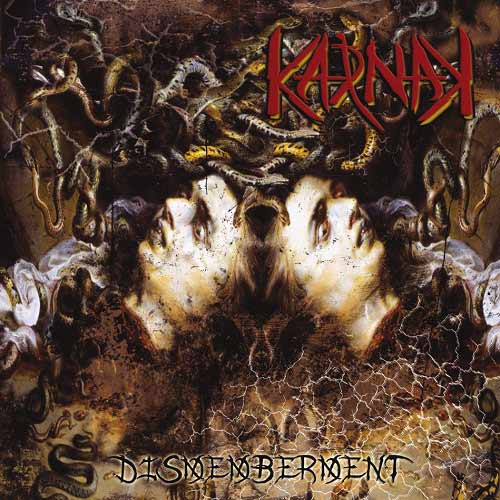 This album, dated 2010, is my list appearance in Karnak, a band that I was involved in since 1993. Perhaps this title is somehow meaningful.
I left the band right after the publishing of this album by Copro Records UK, due to personal and musical differences with the other members of the bad, actually a quite common situation in the music industry.
Dismemberment is structured in a similar fashion as Pestilence's Testimony Of The Ancients dei Pestilence: there is an alternation between short musical pieces (written by Marco Colella in our case, who worked with Karnak for the previous 3 releases) and the actual songs.
Lyrics are about medioeval tortures and the music, once that all progressive fancies have been left alone, returns to the initial brutal mood that the band has in its beginnings, continuining the sound of the first album (Perverted, 1997).
The artwork is a Bruegel's painting, used by kind permission of the museum that host the original.
At the moment, this is the only Karnak album that you will find in digital format on the main streaming platforms.
Stefano Rumich – drums
Gabriele Pala – backing vocals, lead guitar
Francesco Ponga – main vocals, rhythm guitar
Emanuele Cucit – bass
Credits:
Music (actual songs): Karnak
Music (interludes): Marco Colella
Lyrics: Stefano Rumich
Recorded by: Niccolò Gasparini at Music City Studios (Montebelluna,TV – Italy)
Editing: Gabriele Pala
Mixing and mastering: Simone Mularoni at Fear Studios (Alfonsine, RA – Italy)
Logo: Gabriele Pala
Layout: Emanuele Cucit
Pictures: Giovanni Assirelli @ Assirelli Photo Studio
Reviews: