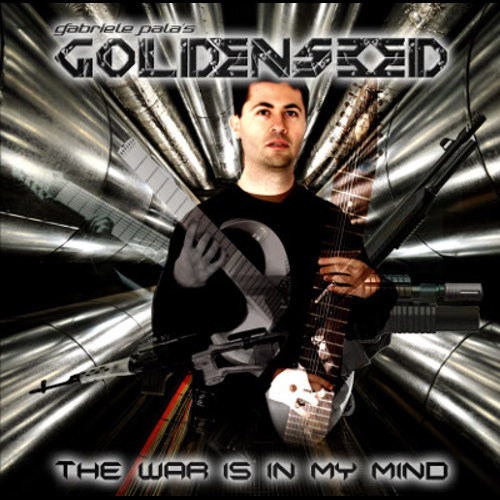 I began to write the music for this album in 2011 with the intent to create a solo work mainly focused on guitar, after having participated with the song Kosmos 233 in an international contest called Guitar Idol, 3rd edition.
After the competition (that I didn't win btw 😀 ), Kosmos 233 and another song should have been listed in a shred guitar compilation created by the American label Shredguy Records.
However, none of these goals were persued, so I decided to turn all the song I've had written in the meanwhile into a Goldenseed release, by adding some elements of experimentations and arrangements to the music, like I already did for my previous works of the same band.
Thanks to Luigi Coppo, on the last track of the record, I had the pleasure to have as a guest vocalist Stian Culto (ex Mayhem, Thy Abhorrent, Con Anima, Shadow Dancers e altri). "Dead On The Road" is a cover of the song "On The Road" by Chris Holder, guitar player of the Italian band Black Deal, deceased since a couple of decades.
The finished product has been published by the Italian label SG Records in 2012 and distributed worldwide by Andromeda Records.
The reviews were discordant: some depicted this music as notably attempt to create something new and expressive, others labelled it as cold and ununderstandable (a thing that I honestly take as a compliment).
Due to the lack of a real band, these songs were never played live, except at a clinic with the amazing Felix Martin, in which I played a couple of them upon a pre-recorded track.
Credits
Music: Gabriele Pala
Music track 11: Chris Holder, Gabriele Pala, Stian Culto
Vocals track 11: Stian Culto
Lyrics: Stian Culto
Recorded, mixed and mastered: Gabriele Pala
Stian Culto's vocal recordings: Lars Andresen @ Attic Studios, Norvegia
Artwork: Gabriele Pala
Layout: SG Records graphic studio
Pictures: Giovanni Assirelli @ Assirelli Photo Studio
Reviews: