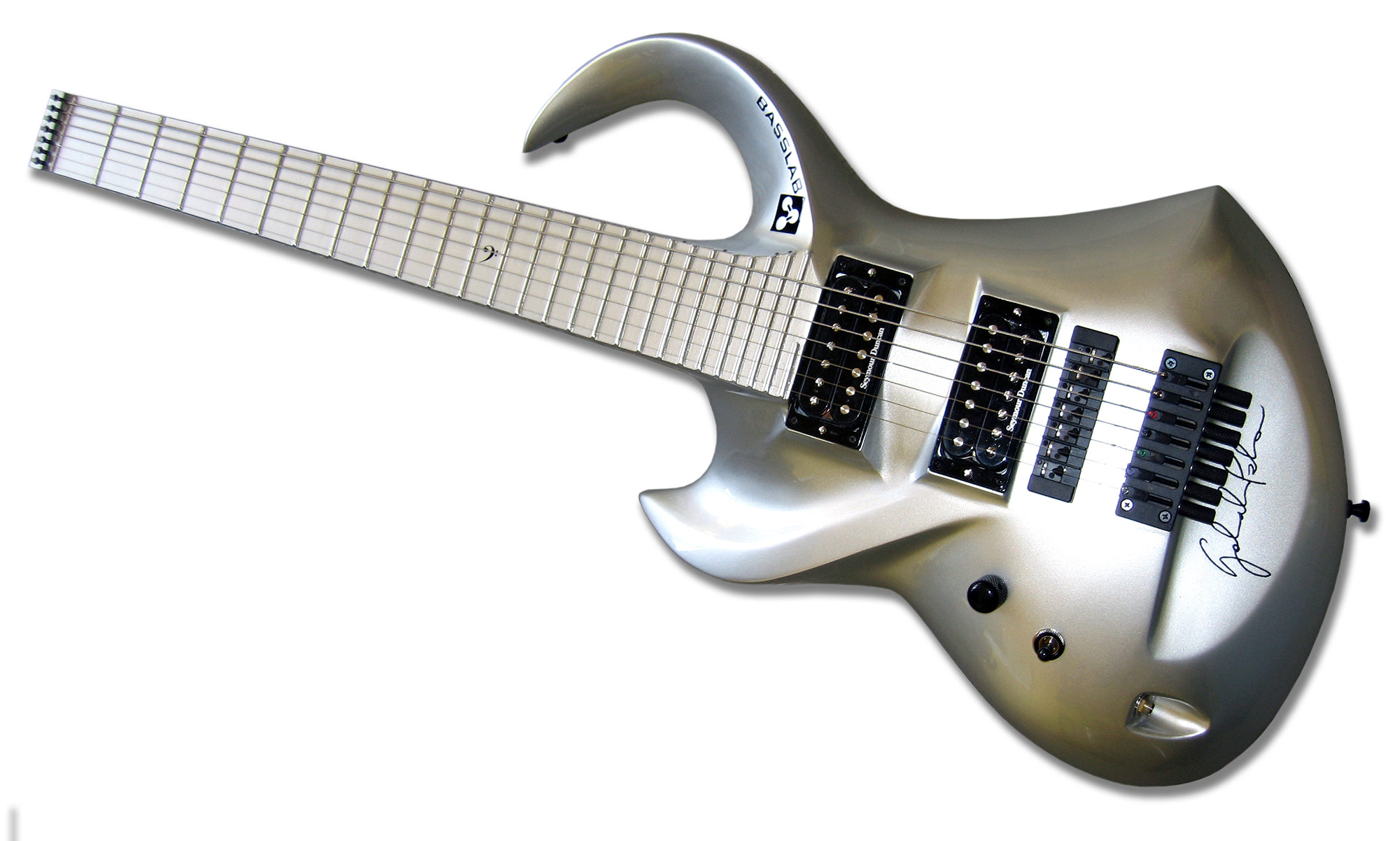 In 2008 I contacted Heiko Hoepfinger, creator of the BassLab brand, for the realization of a guitar built upon my specifications. At that times, building a custom guitar was not as popular as today, so why not choosing the most alien stuff available around?
As you can see, the first thing that tickles curiosity is the unusual shape of this instrument. BassLab produces its guitars and basses by using a special patented composite material instead of regular wood. This gives the guitar a more lifely and airy sound.
These are the main specs:
Completely hollow, even the neck
7 strings, tuning: ADGCFAD
Headless, ETS hardware
26 jumbo stainless steel frets
Seymour Duncan passive pickups (custom at the bridge, jazz at the neck)
Volume pot with push pull killswitch
3-ways pickup selector
Ford metallic gray
Bass clef fret marker on 12th fret
Black diamond fret markers on neck side
Ergonomic jack plug
My signature below the bridge and on the back of the neck
The main thing that people normally ask me is about the sound of this guitar. Its shape is evidently shocking, but how this alien creature that apparently is made of plastic will sound? My answer is: it sounds amazing, but only if you spend some time to look for the proper tone. You must remember that it's hollow, so we are in the world of the semi-acoustic guitars.
When unplugged, the body made of BassLab's resonant material produces a soft, warm, open, airy sound. When you play it for a while and switch back to wooden solid-body instrument, you will find the latter sounding suffocated, like if the sound is coming from beneath a blanket. The BassLab will sound warm, present and dynamic with some more volume added. A comparison with a regular semi-acoustic guitar is also interesting: the BassLab tends to mitigate even harmonics, producing a more stable and creamy sound, even if the global sustain is a little bit shorter.
When you plug the guitar into your rig, there are some considerations to make, and maybe this guitar is not suitable to everybody. Again, you can feel its wide breath. However you must be careful with distortions and overdrives: the instrument is hollow and some specific frequencies will cause unwanted resonances, that will be particulary bothersome at high volumes or in a stage situation. The minimal action (the average height of the strings on the whole fretboard is always below 1 millimeter) can foster the birth of unwanted noised and whistles, expecially if you don't have a refined playing technique.
Once that you can find the right balance of sounds and your hand technique and sensibility, the satistactions are unbeatable. Don't be frightened by what I said in the previous paragraph: I also played death metal with this beast, and finding the right spot is just a matter of speding some time in tweaking your gear's knobs.
You can embrace this guitar and it will embrace you back, because of its shape. The balancing of the weights (very lightweight) are perfect and you will find an instruments that seems molted upon your body. The single note will sing and will be modelled by your minimal hand gestures, and the chords will sound full and defined.
After more than 10 years, it's most high level guitar I own.
Videos
Images
Where to buy